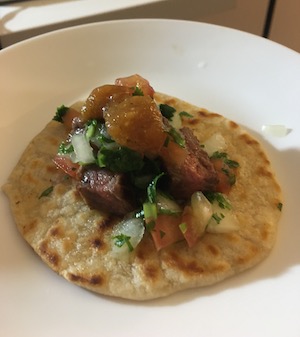 Took my learnings from working at 11 Westside and tried to do a home cooked version of the tacos.
Hand made flour tortillas: first tried with vegetable oil instead of pork lard since I couldn't find it in stores here. The dough came out way too wet following same ratios, was not usable. Remade dough with vegetable shortener. Turned out almost same as with pork lard, except not as flavorful, which sounds to be expected.
Tried rolling them out and that was hard to get them big enough. Pressing them with a pan bottom worked better, but as soon as they start cooking on the griddle they shrivel up. Keeping them on the parchment paper I pressed them onto helped a bit, but they still turned out way too small.
Salsa Ivy said was best salsa she's tasted. Really simple, followed spicy salsa recipe but with jalapeno peppers. Tomatoes and peppers I broiled both to get them charred and smoky.
Pico de gallo I ended up making the kind with tomatoes and used it for both carne asada and fish. Didn't make gaucamole since I didn't have avocados, really tasted the difference of lacking in creaminess.
Carne asada was cooked just right, very flavorful.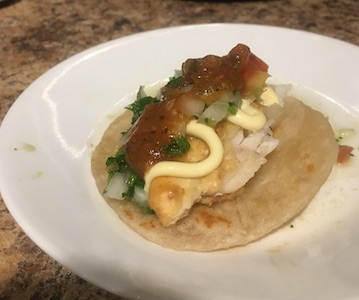 Beer batter fish turned out well. Air frying makes it not as juicy and batter isn't that thick, still tasted quite good though.